WORLD MASTERS ORIENTEERING 2018 CHAMPIONSHIPS
Octavian Droobers Orienteers competed in the Championships held in Denmark and Sheila Carey claimed a silver medal in the W70 Sprint Finals held in the heart of Copenhagen around the former royal castle which houses the Danish Parliament. Approximately 4,500 participants from around the world competed in the official world championships for orienteering runners above the age of 35. Classes are divided into men and women and in 5-year age groups from 35 to 100 years, with a total of 28 classes competing in Sprint, Middle and Long distance races and qualifiers.
There were some great results from the OD team, up against some stiff opposition, with several qualifying for A Finals. As well as Sheila in the Sprint A final in their age group there was Sue Bicknell W70, 20th place, Hilary Simpson W75, 28th place, Peter Carey M70, 38th position and Karin Kirk W70, 47th place. In the middle distance race, in the woods in the north of Zeeland, Hilary Simpson qualified for the A Final in the W75 class, and came 41st and Sheila Carey was 29th in the W70 A Final. In the Long Final, in beautiful woodlands, Hilary Simpson W75 came 33rd and both Sheila Carey and Sue Bicknell were qualifiers in the W70 class.
Sutton Coldfield Urban Results
Rob Bambrook M45 was 1st on the Mens Veteran course, Chris McCartney M45 2nd and Mike Wheeler M45 3rd. Barry Elkington M60 was 3rd on the Mens Super Vet course, Keith Willdig M65 was 2nd on the Mens Ultra Vet course, Lesley Ross W50 was 2nd on the Womens Vet course, Margaret Willdig W65 was 1st on the Womens Ultra Vet course and Sheila Carey W70 3rd,
Burton Dassett West Midlands League
James Hunt M16 was 1st and Megan Marsh W12 3rd on the Yellow course. Henry Jeffries M12 was 1st and Michael Hadland M50 2nd on the Orange course. Josie Smart W14 was 1st and Mark Marsh M45 2nd on the Lt Green course. Rob Smart M50 was 1st, Michelle Oxtoby W45 2nd and Tabitha Lunn W14 3rd on the Short Green course. Bruce Bryant M60 was 1st on the Green course. Duncan Birtwistle M21 was 1st and David Leadley M50 2nd on the Blue course.
17th July 2018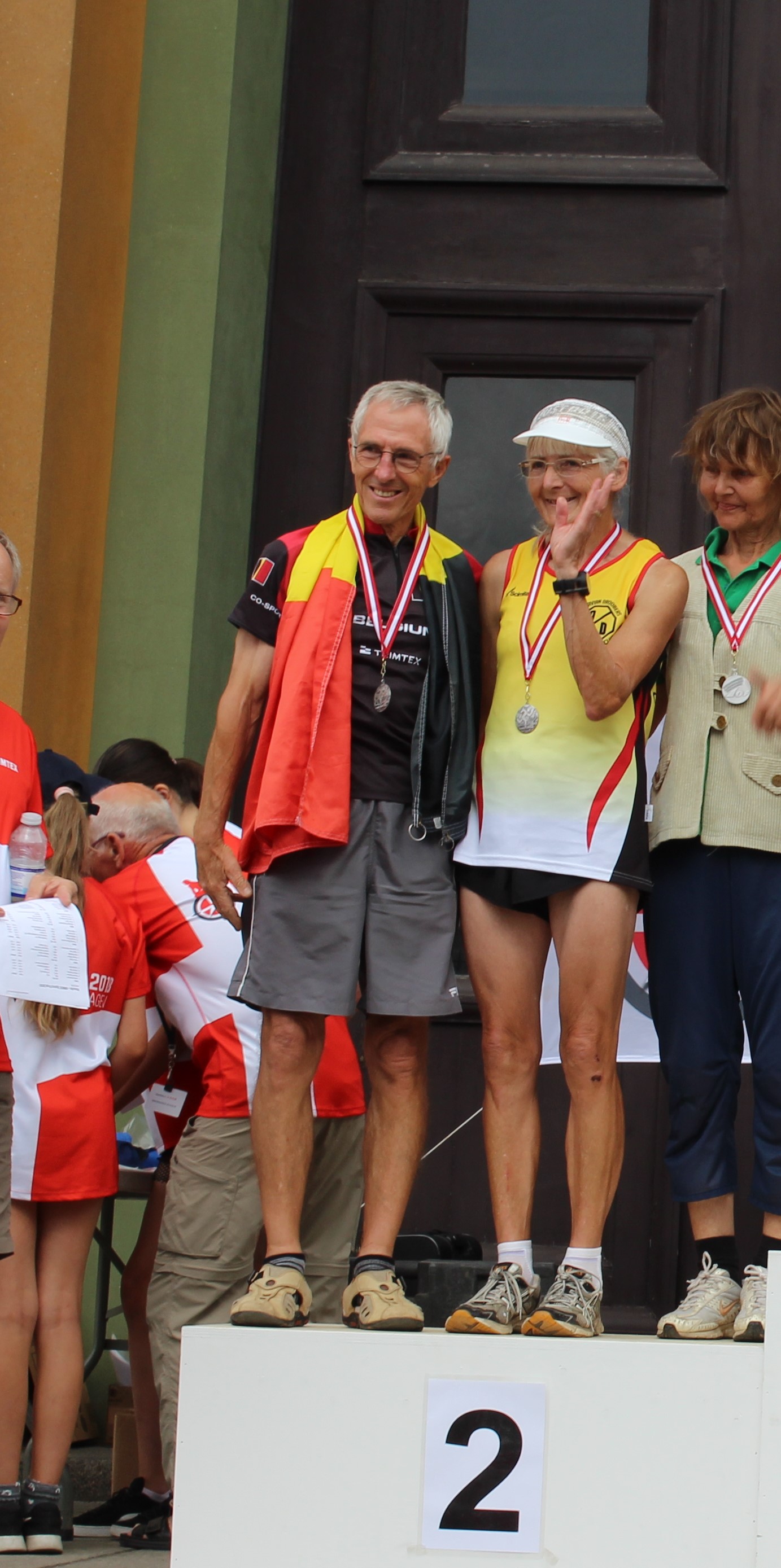 Sheila Carey with silver medal achieved in the Sprint Final at the World Orienteering Masters Championships in Denmark. photo credit CompassSport Magazine