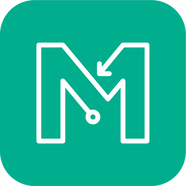 Go orienteering anytime! Use MapRun...
Virtual Orienteering Courses (VOC's) use smartphone apps to help you - either individually or as a family - to physically go orienteering and explore the outdoors at a time convenient to you. The MapRun app allows you to complete an orienteering course - without real controls on the ground - making it perfect for improving individual fitness or for orienteering technique training. Just download a course in the app and then run, jog or walk at your own pace to the control points - choosing your own route - and using your smartphone GPS the app will notifiy you when you reach the correct locations! When you have completed the course you can compare your result with others on the same course and view the route that you took..
Getting Started
MapRun is FREE and easy to use. To install the MapRun app for iOS or Android use these links below...
MapRun for iOS This is the new version of MapRun (v7) (iOS 12 or later)
MapRun for Android This is the new version of MapRun (v7) for Android devices
Or you can search for the app called MapRun by FNE Enterprises.
MapRun version 7 offers enhanced features over MapRun6. Details here
For more info on using MapRun - and the companion MapRunG app for some Garmin smart watches - go to http://maprunners.weebly.com/
Details about how MapRun works and a few useful tips can be found here
MapRun Permanent Courses
Whilst it is possible to use just the app, most of the time - and for the authentic orienteering experience - you will also want a printed map which makes it much easier to get an overview of the course, decide on the best routes and allows your phone to be carried in a more convenient way such as inside a bum-bag or arm pouch...
Most Octavian Droobers Permanent Orienteering Courses (POC's) are available to download for free as both a printable map (pdf file) and as a course to use with MapRun. Permanent orienteering courses that are also available as a MapRun course can be found at these locations below.:
To download a pdf map from the British Orienteering website click on the names...
The permanent courses below are available only as MapRun permanent courses - they are "virtual" courses with no physical posts.:
To download the MapRun course in MapRun, tap Select Event, scroll down to the UK, select Coventry and Warwickshire and Permanent Orienteering Courses. Tap on the course that you want to download.
MapRun Virtual Courses
The MapRun app also makes it easy to put on a course with no physical controls of any sort. These virtual courses use many areas without a permanent course and they have allowed orienteering on some areas where a proper orienteering event is not practical.
MapRun for Running Training
A series of MapRun courses aimed at running training are avaialable. These urban courses use Post boxes as control locations and use the much simplified OOMaps rather than proper orienteering maps making these courses more accessible to less experienced orienteers and runners..
More details here.
Safety
Please remember that you take part in any MapRun courses as an individual activity and are not covered by British Orienteering's public liability insurance. Neither British Orienteering or Octavian Droobers accept any liability for your use of the course or map.
You are responsible for your own safety, please take care crossing any roads and if you go alone, please let someone know the details. Please be courteous to any member of the public you come across, observe social distancing and please give them right of way. Always observe the British Orienteering Participant Code of Conduct
Enjoy! If you have any questions email: maprun@octavian-droobers.org