WORLD UNIVERSITY ORIENTEERING CHAMPIONSHIPS
Representing their Universities, two Octavian Droobers, Matt Elkington and Nathan Lawson competed for GB in the 21st championships held this year in Kuortane, in Finland. There were 33 countries represented including China, USA, Russia, Australia and many European nations.
Following a week of mixed sprint relays, sprint, middle distance and long distance races, the eagerly awaited final event, the relay, saw the GB second team of Matt, Nathan and fellow Sheffield University student, Joe Woodley, produce a fine result racing in to a 7th nation place. Their time of 1:45.44mins, was 9 minutes behind the winning team from Norway.
In the individual races Nathan took 45.09mins and was 29th out of 103 runners, on the 6km middle distance race. On the 4km sprint race he was 35th in 15.05,7mins and Matt Elkington was 37th in 15.14,6mins from a field of 102 runners. Matt was 43rd /99 in 1:31.24mins in the 12.4km long distance event.
Harrison McCartney M21 was 16th in 13.56min and Kin Kwan Kwok M21 22nd in 15.57mins on the 3.6km course in the triple Sprint Scotland Race 1. On Race 2 Harrison was 18th in 16mins and Kin 22nd in 17.22mins. On Race 3 Kin was 24th in 17.23mins on the 3.7km course. Mike Hampton M70 also competed at the triple event and in Race 1 on the 2.4km course was 15th in 16.59mins, Race 2, 2.7km, 7th place in 18.14mins, Race 3, 2.15km, 8th in 13.34mins.
24th July 2018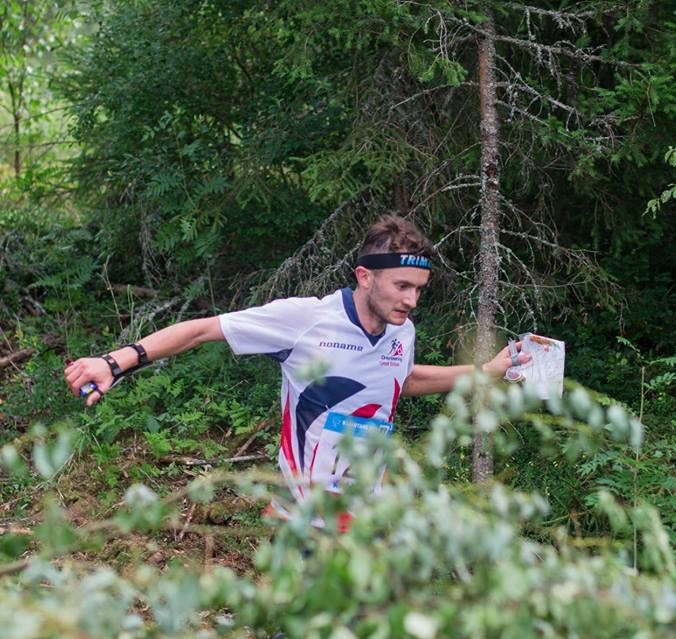 Matt Elkington running through the woods at World University 2018 Championships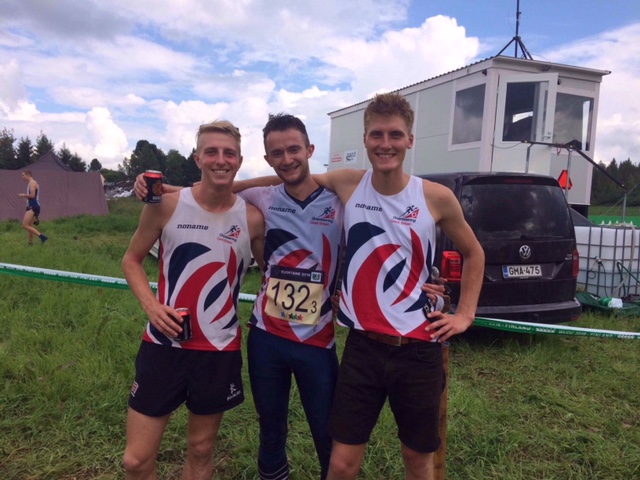 Nathan, Matt and Joe