LAKES 5 DAY CHAMPIONSHIPS
Nathan Lawson continues his successful summer with some great wins in the summer Lakes 5 day competition, staged around the Lake District at Silver How, Angle Tarn Pikes, Whinlatter, Askham Fell and Dale Park. The popular festival of orienteering event is held every four years and attracts thousands of competitors from all over the UK and Europe.
Nathan was the fastest orienteer overall on the M21 Long courses having accumulated the best 4 scores out of 5 in his age category, including 3 first places - Day 1, 3 and 4. His score of 5510 points was nearly 200 clear of second placed Richard Robinson of Nottingham and Andreas Polden of Norway.
Lesley Ross was overall placed 6th on the W50 Long courses and had two great 1st places on Day 2 and Day 3. Anne Straube W40 had some good runs and was 1st on Day 1 and Day 3 and took 4th place on Day 2 to give her an overall placing of 11th as she did not have a 4th race result. Hilary Simpson was 8th overall on the W75 Long courses. Margaret Willdig was 14th overall on the W65 Long course with a 9th place on Day 2.
Junior Captain, Sam Leadley was 18th overall having completed all 5 M18 Long courses, his first ever multi day event. The experience was really enjoyable even though the courses were tough and the terrain difficult to navigate across, he said.
On the short courses overall places were awarded to: Lewis Oxtoby 7th on the M14 courses, Jacob Oxtoby 3rd M16 courses, Aleksandrs Ivanovs 7th M35 courses, Chris McCartney 4th M45 courses, Carolyn Marr 2nd and Thelma Spelton 6th on the W70 courses
Ulverston Urban Race
Alongside the Lakes competition, on the rest day, an Urban race around the town of Ulverston attracted hundreds of competitors. On the longest course, Black 8.3km, Sam Leadley was 3rd M18 taking 54.39mins. Lesley Ross was 7th in 5.3km on the Blue 5.3km Womens course.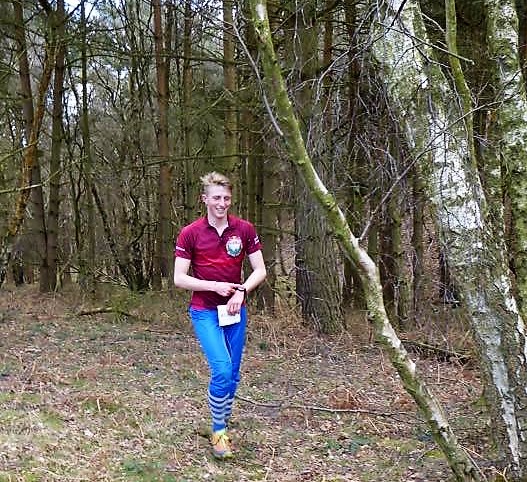 Nathan in the woods