OD JUNIORS WIN NATIONAL TROPHY
The annual interclub Yvette Baker Trophy final took place at Belton Park, near Grantham and was organised by Lincoln Orienteering Club. Competing against 12 other teams who qualified for the final the 31 youngsters put in a magnificent performance to come away with the trophy having last won it in 2010.
The conditions were testing, high temperatures and some rough undergrowth made fast and accurate running very challenging, leaving many exhausted by the finish line. The impressive scores of the top nine runners in the team put OD in the lead with 881 points ahead of Devon 879 and Bristol 870.
Top scorer with 100 points and coming in first on the Green course was Matt Elkington and second Nathan Lawson scoring 99 points. Harriet Lawson scored 99 and Rachel Emmerson 97 for the girls on the Green course. On the Light Green course Stephen Elkington scored 97 for the boys and Tamsin Alcock 99 for the girls. Alfie Bullus came 4th on the Orange course and scored 97 points and Rhiannon Cope was 4th girl on the same course and also scored 97 points. Pippa Smart scored 96 points on the Yellow course.
Several of the juniors were making their debut appearances for the club and helped the club to victory by pushing down the scorers from other clubs.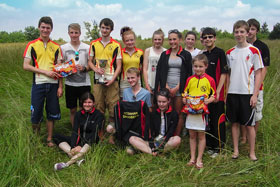 9th July 2013