PRIZE WINNERS AT COOMBE COUNTRY PARK
Over 100 competitors enjoyed the annual June orienteering event held at Coombe Country Park, which this year was sponsored by Cotswold Outdoor clothing and equipment shop based at Leekes, Coventry. The event was planned by Graham and Liz Urquhart and after the event club members enjoyed a BBQ prepared by Phil and Karin Kirk.
The superb prizes, donated by Cotswold Outdoor, were presented to top male and female runners on each of the three courses. Matt Elkington M18 was the outright winner on the Green 4.8k courses in 22.47mins and the top female was Anne Straube W35 who took 31.39mins. Stephen Elkington M16 won the Orange 3.1k course in 18.20mins and Steph Howarth W21 was top female taking 23.19mins. On the Yellow 2.7k course Pippa Smart W10 won in 19.18mins and new member Ian Duckett M45 to 21.27mins.
Winners at Sutton Park
Top runners from around the midlands took part in the popular 'Round the Park Run' starting at Town Gate and visiting six other gates in the Park, a distance of approximately 8 miles. Fastest runner was Patrick Roddy M20, member of OD and Kenilworth Runners, who took 47.24mins ahead of John Embrey M50, Harlequins, 50.57mins and David Liddall M30, Royal Sutton Coldfield AC 54.37mins. Sheila Carey W65 was the fastest lady and broke her own W60 record by 12 seconds finishing in 62.47mins. Bob Brandon, organiser also planned four colour coded orienteering courses and the winner of the short Yellow 2k course was Pippa Smart W10 20.09mins, Oliver Lunn M12 came 2nd 25.18mins and Felix Lunn M12 third in 27.42mins. John Cherry M12 won the Orange 2k course in 23.18mins ahead of brother Luke Cherry M10 28.02mins. Bob Scott M65 from Harlequins won the Green 3.4k course taking 32.01mins, Steph Howarth W21 was 2nd in 32.04mins and Liz Phillips W45 3rd 34.32mins. The long 5.5k Blue course was won by Chris McCartney M40 in 32.59mins just ahead of son Harrison McCartney M16 33.23mins and Mike Hampton M65 39.45mins.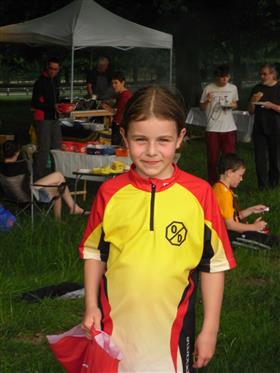 2nd July 2013