SPRINGTIME IN SHOPSHIRE

This ever popular 3 day event is organised biannually by Harlequins and Wrekin Orienteers. With races up on top of Long Mynd (Day 1), through Nash Woods (Day 2) on the Welsh border and around the grounds and woods of the private estate at Brampton Bryant (Day 3) some great challenges were on offer. Many Octavian Droober club members of all ages competed along with 800 runners. All courses included significant climb and many controls points could only be found using good navigation skills, particularly those on the ancient charcoal burning platforms.
Cumulative top 5 places achieved by club members after competing on all 3 days in their respective classes were: Lesley Ross W50 won the W40 class with an overall time of 170.16mins ahead of 2nd placed Anne Straube W40 180.45mins and Sheila Carey W70 won her class in 143.56mins.Young juniors Henry Jeffries M10 was 2nd 82.36mins and Max Straube-Roth M10 3rd in 88.02mins, both competing for the first time at this event. Florence Lunn W14 was 2nd in 178.37mins, Tom Jeffries was 5th on the M45 courses 215.52mins.. Karin Kirk W70 was 4th in 220.09mins.
Top 5 individual days places were achieved by: Jacob Oxtoby M14 5th on Day 3, Oliver Lunn M16 5th on Day 1, Sam Leadley M18 4th Day 1, Tabitha Lunn W14 5th on Days 1 and 3 and Sue Bicknell W70 3rd on Day 1 and 5th on Day 3.
On the short courses: Kevin Ross M50 was placed overall 2nd taking 240.34mins in total after 3 Days and Rachel Alexander W60 5th in 236.42mins. Daniel Kotecky M21 was 4th on Day 1 and 3rd on Day 2, Tilly Flippance W10 1st on Day 3, Kerrie Flippance W40 was 4th on Day 1.
Two Urban races at Wetherby and York attracted a few club members. At Wetherby Chris McCartney was 2nd on the Veteran M40+ course in 44.42mins and Liz Phillips was 5th on the Veteran Womens 40+ course in 56.45mins. Around York City Chris McCartney was 4th on the Mens Vet 5.4km course in 47.31mins, Mike Hampton 4th on the Mens Ultra Vet 3.1km course in 33.59mins and Liz Phillips 4th on the Womens Vet 4.1km course in 43.37mins, Bruce Bryant was 1st on the OC 3.1km course in 30.34mins.
World Orienteering Day
The club celebrated this with an event at Abbey Fields, Kenilworth and 109 competitors joined in to add to the 2202 events being staged in 69 countries. So far 208,855 orienteers have been recorded as participating. This number is expected to exceed last years total of 250,000. Yellow course winner was Emily Know W12 in 9.51mins, Pippa Smart W14 won the Orange course in 13.45mins, Oliver Lunn M16 won the Medium course in 29.27mins, Felix Lunn won the Short Urban in 31.21mins and Chris McCartney M45 won the Long Urban in 45.48mins.
30th May 2017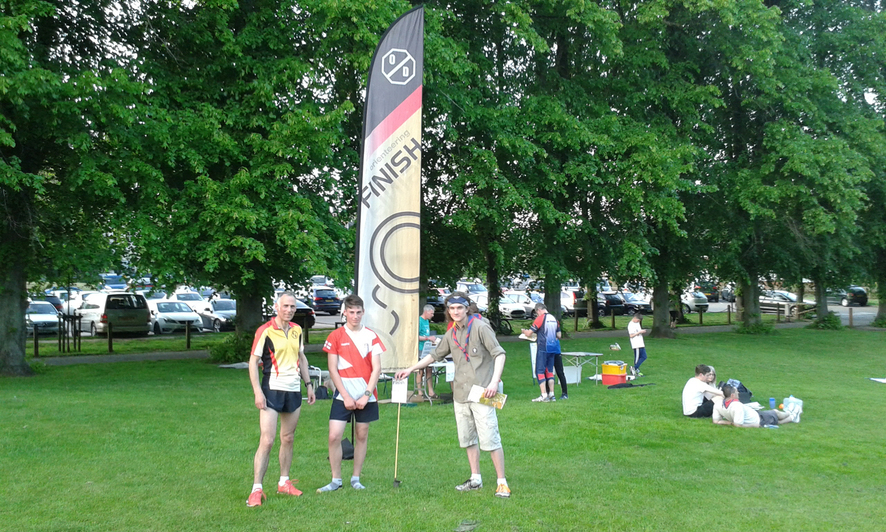 World Orienteering Day 2017