OD JUNIORS AT BRITISH SCHOOLS CHAMPIONSHIPS
Several club juniors represented their Coventry, Warwickshire and Oxfordshire schools in the annual British Schools Championships, which this year was held at Temple Newsam, near Leeds.
Congratulations to all the juniors who competed, many of whom were making their first appearance at such a prestigious championship. The top placed junior was Stephen Elkington who was presented with an individual medal for coming 2nd in the Year 12 boy's class. Stephen Elkington is a pupil of Kenilworth School and Sports College. The Kenilworth School team were placed 3rd overall in the Year 8 Boys class. King Henry VIII School, Coventry, team were placed 2nd overall in the Year 13 Girls class and also earned a 3rd place in the Year 11 Girls class. Full results are available on the British Schools Orienteering Association website.
The Holcote and Reynolds Wood event organised by South Midlands Orienteering club was a popular choice for Octavian Droobers. Head coach Andy Emmerson M55 came in 3rd on the 6km Blue course with 130m of climb in 59.53min, Chris Dwyer M60 was 5th on the 4.2km Green course in 51.28mins, Roger Hailey M75 was 2nd in 46.48mins on the Short Green 3.6km course and Janet Richardson W65 took 47.21mins to claim 3rd on the same course.
At the Oakwood Urban event, organised by Derwent Valley Orienteers, Kin Kwan Kwok M20 was 3rd on the longest 8.2km course taking 56.02mins and Chris McCartney M45 was 5th on the 6.5km course with 100 metres of climb in 40.55mins. Mike Hampton M65 was 1st on the 4.1km Course 4 in 29.30mins, Sheila Carey W65 was 2nd in 30.31mins and Peter Carey M70 5th in 32.39mins.
At the Southern Night Championships around Silchester Common Anne Straube W35 was 4th placed woman taking 75.37mins on the 6.03km course using a head torch to find the 18 controls.
18th Nov 2014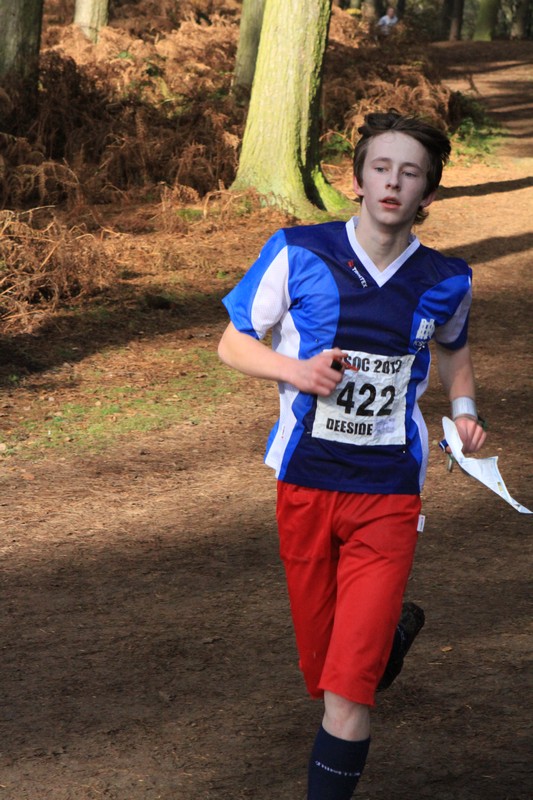 Stephen Elkington at British School Championships