SCOTTISH SIX DAYS CHAMPION
The biannual Scottish 6 days of orienteering is the largest international orienteering event held in the British Isles and this year attracted nearly 4000 competitors from all over Europe and further afield. Over 60 club members travelled to the Moray Firth area and enjoyed the mixed complex terrain of woodland, sand dunes and marshes, made harder by tough undergrowth of heather, gorse, blueberries and brashings.
Competing in the W21 Elite class on each of the 6 individual courses with distances of up to 11.3k, club member Riina Kuuselo, who ran up a class from W35, was placed first overall and was crowned the Scottish Six Day champion.
Congratulations to Amy Sarkies who achieved 2nd place overall in the W35L class having come 1st on Day 4 and to Anne Straube who came 4th overall having been placed 2nd on Day 6 also in W35L class. Sheila Carey W65 came 2nd on Day 6 to clinch an overall third place podium position in the W65L class.
Top ten overall positions were achieved by several club members: Julie Emmerson was 4th and Harriet Lawson 7th in the W18L class, Helen Elkington 4th in the W20 short class, Liz Cross 10th in the W40 short class and Hilary Simpson 10th in the W70L class. Nathan Lawson was 4th and Harrison McCartney 10th in the M16A class, Sami Takaluoma 9th in the M40 short class, Bruce Bryant 8th in the M55 short class and Mike Hampton 10th in the M65L class.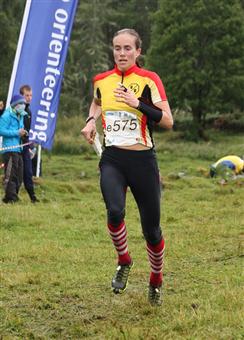 Riina Kuuselo, Scottish 6 Day W21 Elite Champion running to the finish on Day 4 near Nairn.
GEOCACHING MEGA EVENT
The sixth annual national Mega Geocaching event attracted over 1500 geocachers from around the world and this year it was staged at the Heritage Motor Centre, Gaydon, Warwickshire.
Octavian Droobers Orienteering Club were asked to put on an introductory course at the event and Alan Segar, helped by Steve and Marina Batty, with map updates by Bruce Bryant, welcomed many people, especially families, who enjoyed trying out this adventure navigation sport.
Most people were visiting from further afield, Thames Valley, Worcestershire, Derwent Valley and Norfolk areas for example and were interested to learn about and encouraged to contact their local clubs. Local scouts and guide leaders were very interested and teachers wanted more information about orienteering in schools.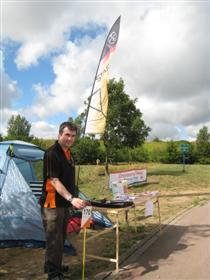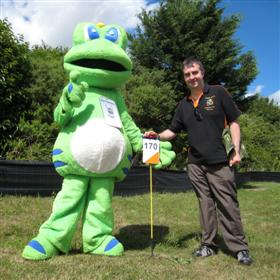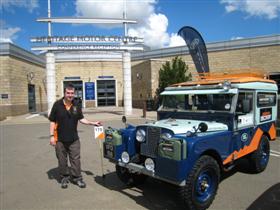 6th August 2013