BRITISH NIGHT CHAMPIONS
Tankersley Wood in South Yorkshire was the location for the British Night Championships organised by South Yorkshire Orienteering club. Congratulations go to the three young club orienteers who were crowned British Champions: Will Gardner won the M20 class in 1.13.59min on the 9.1k course, Harrison McCartney the M16 class in 49.58mins on the 6.3k course and Julie Emmerson the W18 class in 43.54mins. Heather Rogers W16 came second in her class in 1.02.14mins on the 4.3k course as did Anne Straube W35 in 1.06.33 on the 6.3k course and Rachel Emmerson W18 54.01mins on the 4.9k course. Third places went to Matt Elkington M18 1.03.45mins on the 7.8k course, Liz Phillips W45 1.08.18mins on the 4.9k course and Sheila Carey W65 in 1.17.32mins on the 3.6k course.
Also at Tankersley Wood on the day after, in snow and rain, South Yorkshire organised a Middle Distance event. Top places in their classes were achieved by Aimee Morse W16 who completed her 3.6k course in 35.29mins, Julie Emmerson W18 taking only 41.27mins to win the 5.3k course with 170 metres of climb, Matt Elkington M18 finishing with a time of 37.29min on the 5.9k course with 190 metres of climb and Andy Simpson M40 who took 41.56mins on the same course. Will Gardner M20 came 2nd only 17 seconds behind the winner in 35.17mins on the 5.9k course, Anne Straube W40 3rd in 42.00mins on the 4.5k course and Rachel Emmerson W18 3rd in 60.12mins on the 5.3k course.
The Chiltern Challenge on Sunday at Christmas Common, organised by Thames Valley Orienteering Club, proved very challenging, but even the extremely wet and cold conditions, experienced by our members did not deter Nathan Lawson M16 coming 2nd in 57.42mins, only 8 seconds behind the winner from Happy Herts Club, and Harrison McCartney M16 3rd in 58.44mins on the Blue 7.21k course with 235 metres of climb in their class. Harriet Lawson was second fastest W18 also on the Blue course in 1.04.37mins.
Lickey Hills, near Birmingham, was the venue for the W. Midlands League event and many club members competed. Amongst several good runs earning points was Alfie Bullus M14 coming second on the Light Green 2.4k course 48.06mins, Tom Jeffries M40 2nd on the long Brown 7.2k course in 65.21mins and Stephen Elkington M16 also 2nd on the Green 3.5k course.
Next Sunday Octavian Droobers are taking part in the national interclub Compass Sport Cup. This first round takes place at The Wrekin, near Telford. Vice Captain Suzanne Humphries has organised a 60 strong team to run for the club.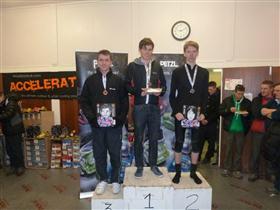 12th February 2013