BRITISH NIGHT CHAMPIONSHIPS
Several club members took part in the British Night championships held at Hamptworth Estate, Wiltshire, on Saturday night and also ran on Sunday in the Sarum Saunter at the same location. Sheila Carey took first place in the W65 3.4k course running round in 59.26mins as did Anne Straube on the W35 Long 5.3k course with 155m climb in 1.02.41mins and Julie Emmerson W16 on her 3.7k 120m climb course in 36.18mins. On the same course Rachel Emmerson W16 came 2nd and Lesley Ross W45 was 2nd on the 4.7k course 165m climb course in 56.16mins with Liz Phillips W45 coming in 4th in 1.16.39mins. Matt Elkington was 3rd on the long 6.9k 165m climb course for M18's.
On the following day the club had 5 winners in the age classes Andy Emmerson M55 on the 7.1k course in 1.15.36mins, Anne Straube W35 6.1k course in 57.42mins, Julie Emmerson W16 6.1k course 50.37mins, Sheila Carey W65 4.4k course in 51.52mins and Liz Cross W40 4.4k in 49.19mins.
WEST MIDLANDS LEAGUE EVENT AT LIZARD HILL
Octavian Droobers achieved some great results at the league event organised by Wrekin Orienteers including club chairman Robert Brandon M60 1st on the 4.8k Green course in 37.18mins as was Jeremy Knott M16 on the Light green 3.6k course. Josh Jelley M16 was 2nd on Light Green in 39.36mins. Matt Elkington M18 came 1st on the Blue 6.8k course, Hamish Rogers M16 5th in 46.33mins. Winner of the Brown 8.5k course was Warwick University student Chris MacKenzie M20 in 57.28mins and Calum Barnetson M20 3rd in 1.03.59mins. Stephen Elkington M16 was 5th on the Green course in 44.55mins.
PODIUM PLACES AT POM 2012
Two club members, Carolyn Marr W65 and Riina Kuuselo W21, stepped onto the podium at the Portugal Orienteering Meeting held at Viseu in central Portugal. The 4 day event, attended by some other club members, is a popular start to the orienteering year where they competed with top class runners from around Europe. The terrain was very technical, tree covered, rocky and quite mountainous on the 4th day. Carolyn Marr adapted easily and using her mountaineering skills achieved an overall 2nd place in her class. Riina Kuuselo was in top form and showed her world class status by coming 5th overall in the world ranking women's open event.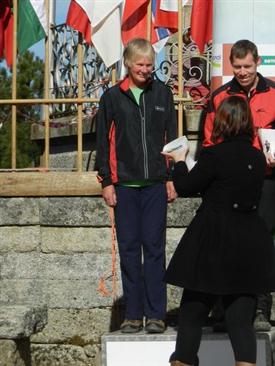 Carolyn 2nd on W65 course at POM 2012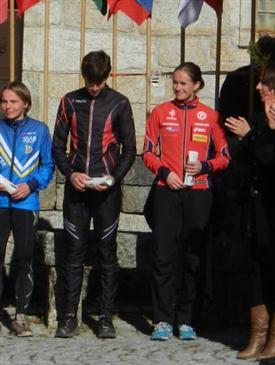 Riina Kuuselo 5th in the Womens Open at POM 2012
WAINBODY WOOD RESULTS
This was the first time that club member Alan Segar had organised an event and he thanked club members for helping out. On the short Yellow course newcomer Oliver King M18 ran round easily in 8.17mins ahead of club members Matthew Kermode M12 11.15mins and Pauline Kermode W50 13.21mins. Oliver King then went out on the longer Orange course winning this in 23.27mins just ahead of newcomer Alex Bailey M14 in 24.03mins and Kim M70 in 24.07mins. On the longer Green 3.8k course with 25 controls Chris MacKenzie M20 from Warwick University came 1st in 28.12mins ahead of Calum Barnetson M20 29.41mins and Bob Brandon M60 35.03mins.
28th February 2012