West Midlands League Results
Oldacre, near Brocton on Cannock Chase was the venue for the West Midlands League event organised by Walton Chasers. Droobers of all ages competed for the club, including the youngest 9 year old Ruben Jeffries who was 7th on the Yellow 1.5km course and Roger Hailey who won the M80 class on the Short Green 3.1km course..
On the Brown 7.7km course Alistair Landels was top M50 taking 67.27mins, Kin Wai Lee 2nd M21 taking 69.09mins, Tony Feltbower 1st M65 in 91.13mins and top woman Anne Straube W40 taking 73.54mins. Tom Jeffries M45 was 4th in 58.53mins and Chris McCartney M50 6th in 60.28mins on the Blue 6.4km course. Sheila Carey W70 was 6th in 54.40mins and Juliette Soulard W45 9th in 57.13mins on the 4.8km Green course. Mike Baggott M65 was 4th on the Short Green 3.1km course and onn the Orange 2.6km course Adam Landels M10 was 4th in 46.51mins.
The Autumn in Anglia 2 day event comprised a forest and an urban race around Bury St Edmunds. In the Forest race at West Harling Liz Phillips W55 was 7th in 61.29mins and Mike Hampton M70 9th in 61.54mins on the 5.56km Green course. Running around Bury St Edmunds in the pouring rain saw Nadine Wright W21 come in 3rd in the Womens Open class 6.2km course taking 61.39mins and Mike Hampton M70 6th in the Mens Ultra Vet 4.3km class in 47.28mins.
On Day 2 David Lawson was 6th on the Mens Super Vet 6.4km course in 41.44mins at the European City Race tour event part of the Liverpool Big Weekend of Urban Orienteering.
On Day 1 David was placed 4th at the Everton Park race taking 22.45mins on the 3.575km course.
8th October 2019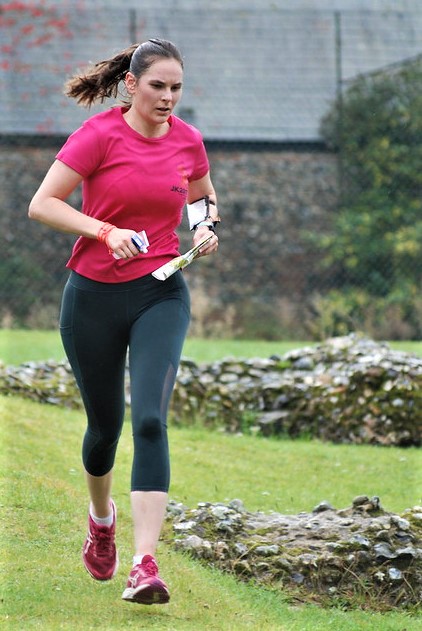 Nadine Wright, Bury St Edmonds, Photo: Steve Rush