COVENTRY AND WARWICKSHIRE SCHOOLS CHAMPIONSHIPS

The club welcomed many school pupils from the Coventry, Warwickshire and surrounding areas to the annual school orienteering championships which were held this year at the Memorial Park, Coventry. Organiser Phil May and his team of helpers ensured the event went smoothly. Mike Snell was the planner who designed 3 courses of varying lengths and technicality to suit the three categories, primary, lower secondary and upper secondary schools, in addition to a longer course for experienced orienteers.
Park Hill Primary School, Kenilworth were the winners of the team prize for primary schools, Bablake Junior School, Coventry was 2nd and Staverton Primary, near Daventry were 3rd. In the Lower Secondary category Kenilworth School were the winners, King Henry VIII, Coventry were 2nd and Southam College 3rd. Kenilworth School also won the Upper Secondary School category, King Henry VIII were 2nd and Bablake, Coventry were 3rd.
Individual winners, representing their schools:
Primary category on the White 1.4km course –
1st Year 5 Boy Max Straube-Roth 8.57mins Grange Farm, Coventry; 1st Year 5 Girl Tilly Flippance 9.36mins, Park Hill, Kenilworth, 1st Year 6 Boy Keelan Maddy 31 mins, 74th Scouts, Coventry, 1st Year 6 Girls Sophie Causser and Phoebe Causser 12.06mins, Crescent School, Rugby.
Lower Secondary category on the Yellow 1.4km course –
1st Girl Florence Lunn 12.58mins, Kenilworth School, 1st Boy Jacob Oxtoby 11,09mins, King Henry VIII, Coventry.
Upper Secondary category on the Orange 2.6km course –
1st Boy Felix Lunn 11.02mins, Kenilworth School, 1st Girl Pippa Smart 15.50mibns, Myton School, Warwick.
The long 5km course with 17 controls was won by Benjamin Rauffet M21, City of Birmingham O Club in 24.20mins, Mike Wheeler M45 was 2nd in 24.52mins, Roger Thetford, Thames Valley was 3rd in 27.30 and Rob Bambrook M45 4th in 27.32mins.
At Nesscliffe, organised by Wrekin Orienteers, Octavian Droobers club members competed in the Compass Sport first round. The total score of 2406 points were achieved by some top class running, and members who scored the maximum of 100 points by winning their class were Kirsten Strain W21, Barry Elkington M60, Felix Lunn M16 and Florence Lunn.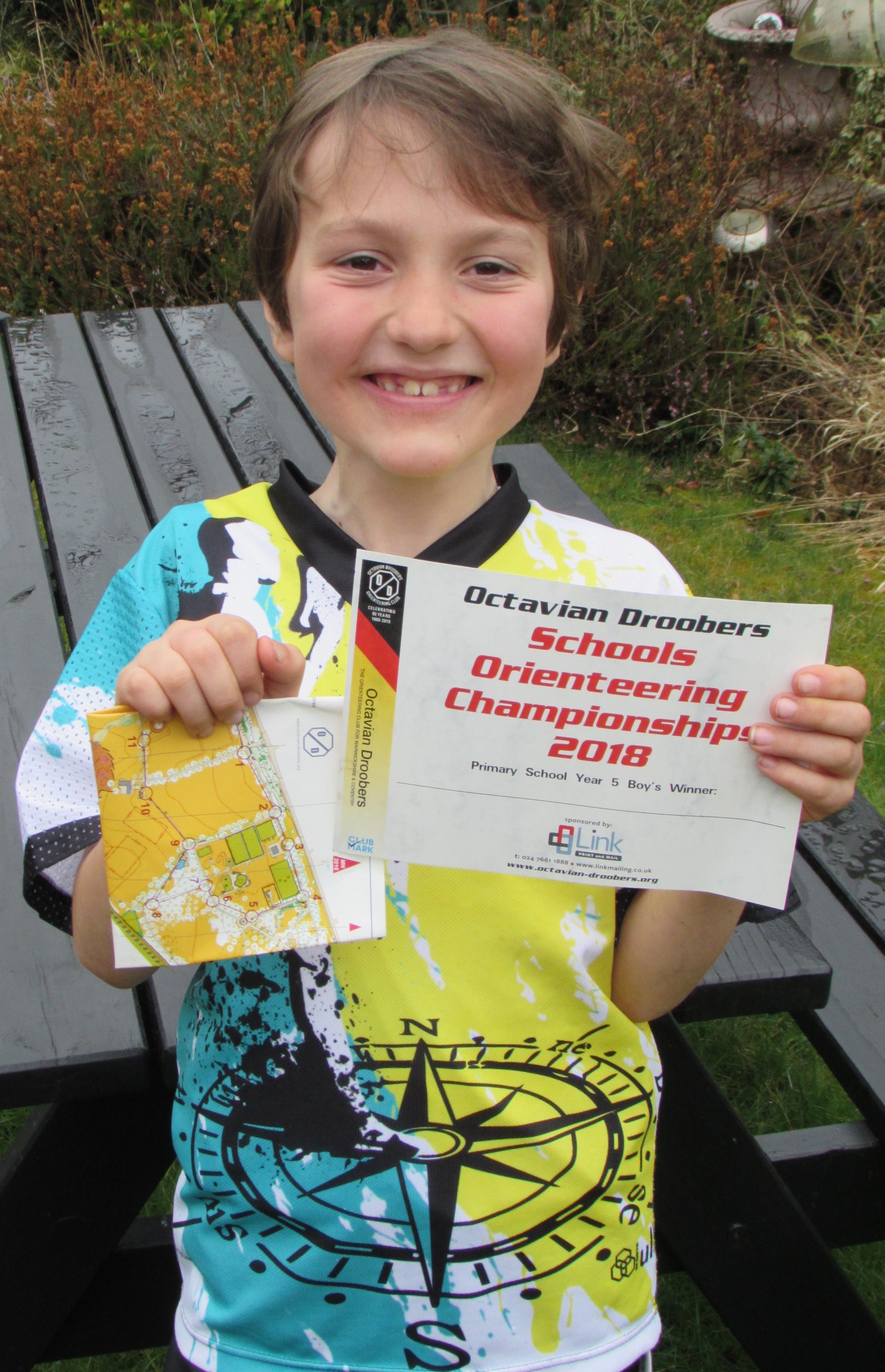 Runner with his winning certificate at the annual Octavian Droobers Schools Orienteering Championships 2018.