WILL GARDNER GETS WORLD CALL UP AND LATEST URBAN RESULTS
Congratulations to Will Gardner, who will be taking his place in the GB team at the World Orienteering Championships this weekend in Estonia. The club wishes him and the team every success. Will is also a member of Rugby and Northants Athletic Club.
Octavian Droobers continue to enjoy racing around the towns and cities this summer. In Loughborough Bruce Bryant was 1st on the Mens Ultra Vet 3.9km course in 36.38mins, Peter Carey was 8th and Roman Kotecky 9th. Josie Smart was 2nd on the W12 1.5km course in 15mins and Pippa Smart 2nd on the Womens junior 4km course in 49.58mins. Lesley Ross also clocked up a 2nd place on the Womens Open 7.4km course taking 72.52mins. Liz Phillips was placed 4th in 60.44mins and Jill Emmerson 5th in 66.23mins on the Womens Veteran 5.8km course. Andy Emmerson was 5th on the Mens Veteran 7.4km course in 61.36mins. On the Womens Super Vet 3.9km course Jane Stew was 6th, Sheila Carey 7th and Joanne Leigh 10th. Sam Leadley W18 was 10th in the Mens Open taking 86.46mins on the 9.1km course. Sue Bicknell was 5th on the Womens Ultra Vet 3km course.
Nottingham Orienteering Club organised the Meadow Sprint event and after two sprint races Liz Phillips was 3rd overall in the W40 class as was Bruce Bryant in the M55 class. Peter Carey was 2nd in the M65 class and Sheila Carey 3rd in the W65 class. At the Hull City of Culture weekend on Day 1, Liz Phillips was 2nd overall after completing 3 races in the Womens Veteran class. Bruce Bryant was 1st overall in the Mens Super Vet class and Mike Hampton joint 6th in the Mens Ultra Vet class. Nathan Lawson was the winner of the Mens Open Hull City Race on Day 2 taking 38.84mins on the 8.1km course and David Lawson M50 was 2nd on the Veteran Mens 7.6km course in 44.18mins.
27th June 2017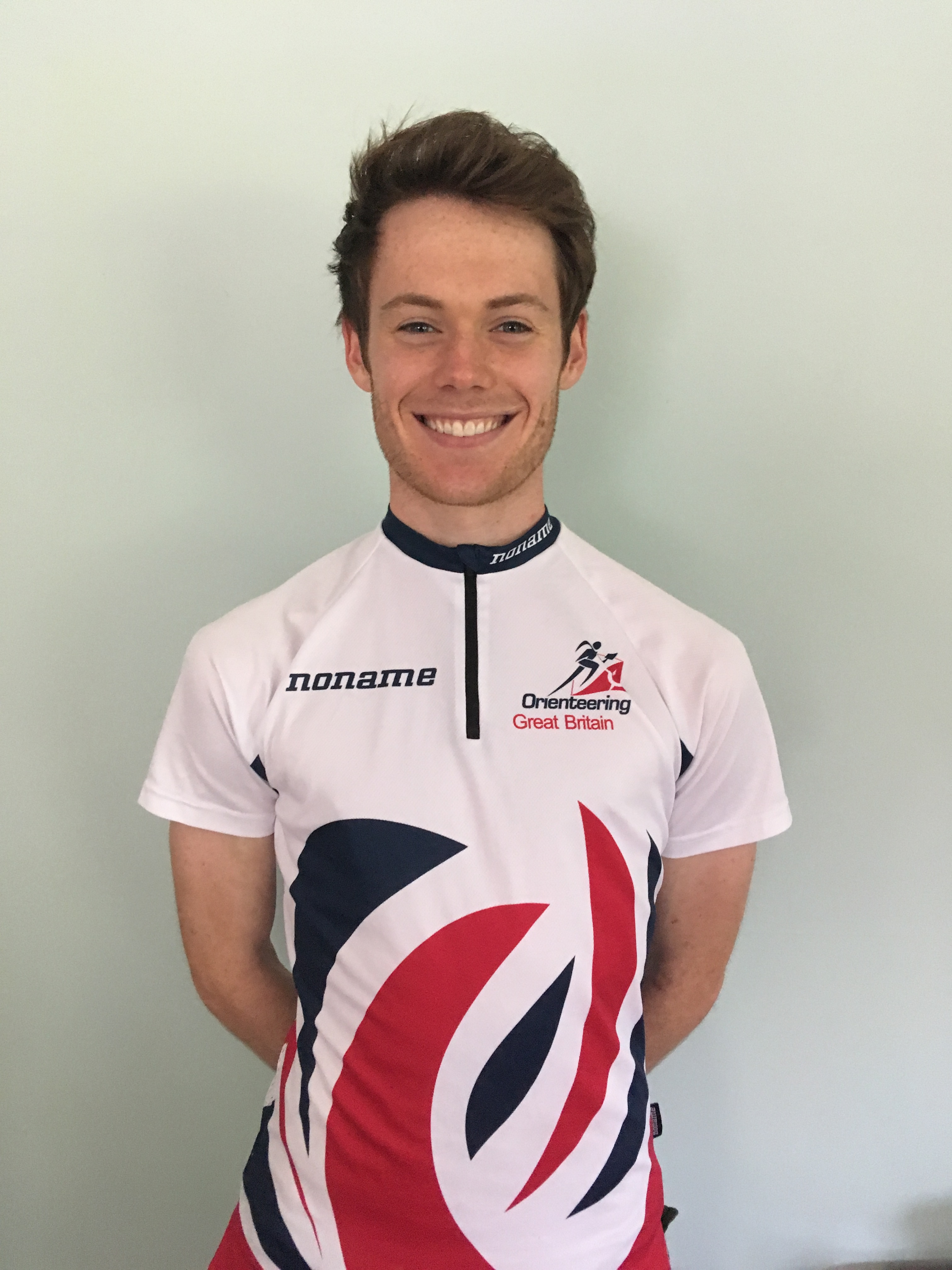 Will Gardner, looking very happy in his new GB kit. Will was selected as a reserve but got a last minute call up to join the team in Estonia.