MIDLAND CHAMPIONS
At the Midland Championships held on Sunday around the Longshaw Estate, near Sheffield, Octavian Droobers team of more than 50 orienteers produced an impressive 10 champions. The Estate is owned by the National Trust and the steep and physically tough terrain, comprising woodland, millstone quarries, packhorse trails and open marshy moorland proved challenging particularly to newer members of the club.
Club members were competing against the best from the West, East Midlands and across East Anglia for the prestigious trophies. Will Gardner was the top midland orienteer on the M21 11.2k longest course with 425 metres of climb and found all 26 controls in an impressive 66.43mins. Congratulations to junior Felix Lunn M12 who became a winner at his first ever Midland Championship event taking 30.01mins on the 4.2km course with 100 metres of climb.
The eight other club members who won trophies were: Nathan Lawson M18 who took 63.08mins on the 8.1km course with 325 metres of climb, Matthew Elkington M20, 52.25mins on the same 8.1km course and Peter Carey M70 59.03mins on the 5.7km course. On the women's courses Harriet Lawson W20 was a winner taking 42.54mins on the 5.6km course with 195 metres of climb as was new member Kirsten Strain W21, in her first competitive run for the club, taking 69.53mins on the 8.1km course with 325 metres of climb. Anne Straube W35 on the 6.5km course took 60.32mins and Sheila Carey W65 went round in 43.38mins on the 4.3km course in 43.38mins.
The Urban race in Redditch on Saturday also produced some first places. The event organised by Harlequins saw Iain Embrey M21 winning the Men's Open 7.3km race with 120 metres of climb in 51.52mins. Chris McCartney M45 won the Men's Veteran event taking 48.48mins on the 6.8km course and Richard Gardner M60 won the Men's Super Vet 6.4km course in 60.43mins. Sheila Carey W65 won the Women's Ultravet race in 36.56mins on the 3.6km course making it a double triumph over the weekend.
28th Oct 2015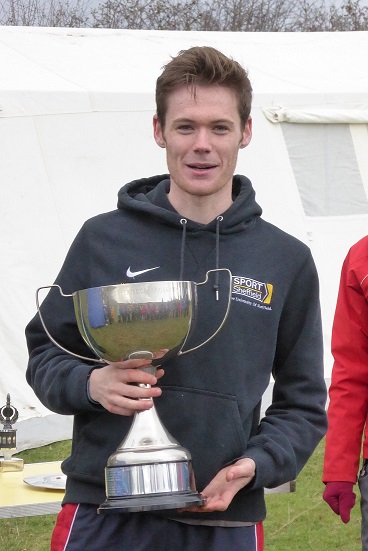 Will Gardner with his Midland championship trophy.
Click HERE for lots more photos
Click HERE for the full results