COTSWOLD OUTDOOR ANNOUNCE SPONSORSHIP OF OCTAVIAN DROOBERS COOMBE COUNTRY PARK ANNUAL EVENT.
This year we are pleased to announce that Cotswold Outdoor, the outdoor clothing and equipment retailer, based at the Leekes, Coventry Store, will be sponsoring the annual Coombe Country Park event presenting great prizes to winners of the three orienteering courses.
Becky Williams, manager of the Coventry Cotswold Outdoor store, says she is very pleased to support the local Octavian Droobers Orienteering Club, who are one of the top clubs in the country. She says that she is aware that using the right equipment including compasses, gps systems, good quality technical outdoor clothing and footwear specific to the sport is important to help the club maintain their success.
The orienteering event takes place on Wednesday evening 19 June at Coombe Country Park, near Coventry, with starts from 6 until 7.30pm where there will also be the annual club BBQ. Runners and walkers of all ages, 5 – 85 years and abilities will be welcome to come along to come along to try out this outdoor adventure navigation sport. Three courses have been planned and help is available to all newcomers. A large scale map and electronic timers are provided.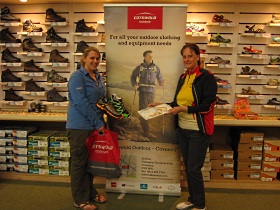 Becky Williams, manager of the Coventry Cotswold Outdoor store with Karin Kirk announcing the sponsorship of Coombe Country Park event.
12th June 2013