SUNNY SATURDAY AND SUNDAY
The West Midlands Park Orienteering Championships were held at Hanley Forest Park, Stoke-on-Trent on Saturday. Pete Carey won the 3k Veteran Men's course in 28.05mins and Sheila Carey won the 2.3k Veteran Women's event in 18.46mins. Barry Elkington was 2nd on the 4k Senior Men's event taking 29.21mins.
On Sunday some Octavian Droobers chose to go south to the Coombe Hill event on the Chiltern Hills, near Wendover, while others went north to the Cromford Moor and Black Rock event organised by Derwent Valley Orienteers.
Top ten places at Coombe Hill were achieved by: Harrison McCartney on the Brown 9.1k course with 155 metres of climb who took 1.14.16mins to come in 5th place ahead of his father Chris McCartney who came 6th in 1.16.26mins. Liz Cross was 7th on the Green 5.4k course in 51.47mins and Hilary Simpson 5th in 39.07mins, Karin Kirk 7th in 41.07mins and Roger Hailey 9th in 42mins on the Short Green 3.2k course. Diana Hailey was 2nd on the Light Green 3.6k course taking 42.12mins.
At Cromford Moor Bruce Bryant came second on the Short Green 3.1k course in 37.31mins as did Liz Philips on the Green 4.5k course taking 1.06.25mins and Pete Carey came 5th in 1.07.36mins on the same course. Anne Straube was 3rd on the Blue 6k course taking 1.11.42mins and Jane Feltbower 3rd on the Long Orange 4k course in 1.08.23mins.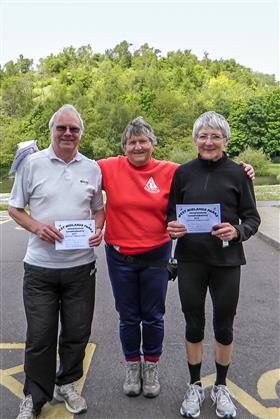 Pete Carey, left and Sheila Carey right after winning the West Midland Parks championship.
4th June 2013