OD JUNIORS WIN THROUGH TO NATIONAL FINAL
Congratulations to all the 27 orienteering junior club members, from Coventry and Warwickshire Octavian Droobers Club, who turned out to run at the qualifying race of the National interclub Yvette Baker Trophy held at Bradgate Park, Leicestershire. They were up against strong competition in the East Midlands and scored 895 points out of a possible 899, just ahead of Leicestershire's 890. OD team members won four out of the eight classes scoring a maximum of 100 points. These were John Cherry on the Yellow course, Rhiannon Cope on the Orange, Julie Emmerson and Matthew Elkington on the Green. Coming second on their courses and scoring 99 points were Pippa Smart on the Yellow, Ella-Rose McCartney and Stephen Elkington on Light Green and Nathan Lawson and Harriet Lawson on Green. Amongst the squad were several first timers who contributed to the points and the club looks forward to doing well at the finals which will be held in July.
The Wednesday evening event at Kenilworth Sixth Form College and round Kenilworth Town, was very well attended by over 75 runners, and organised by Mike Hampton, Barry and Mel Elkington. Chris McCartney won the long race in 39.46mins and Andy White from Harlequins won the medium course in 32.39mins.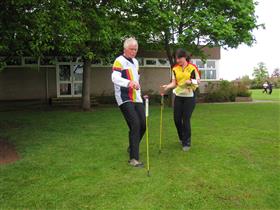 John Bowman and Steph Howarth finishing their run at the Kenilworth event.
21st May 2013