BRITISH SPRINT AND MIDDLE DISTANCE CHAMPIONS
At the two day weekend championships Octavian Droobers club members were celebrating podium places. On Saturday the British Sprint Championships were staged around the Loughborough University campus. After the morning heats several club members made it into the A Finals and the club congratulates the following British Sprint Champions: Nathan Lawson who won the M16 class 2.7k course in 17.29mins, Andy Simpson who won the M40 class 2.7k course in 16.09mins, Mike Hampton won the M65 class 1.6k course in 11.34mins and Anne Straube won the W35 class 2.2k course in 18.49mins. Lesley Ross was 3rd on the W45 class 1.9k course in 16.22mins.
The British Middle Distance championships were held on Sunday at Stanton Moor in the Peak District and the heather and boulder strewn courses suited several club members. Congratulations to Harriet Lawson who was crowned W18 British Middle Distance Champion taking 32.05mins on the 4k course with 150 metres of climb. Will Gardner was 2nd M20 on the 4.8k course with 190 metres of climb in 32.16mins and Matt Elkington was 3rd in his M18 class taking 35.06mins. Andy Simpson M40 was also on the podium coming 3rd in his class on the 4.5k course in 33.57mins. Fourth places were achieved by Anne Straube W35 and Trevor Simpson M75.
Over 75 competitors appreciated the local event and 4 courses put on by Anne Straube, helped by Roman Kotecky, around the Warwick University Campus and many newcomers enjoyed their first experience of the sport. The Yellow 1k course was won by newcomer Felix Lunn M12 in 11.36mins and newcomer Dylan Parkinson M7 came 2nd in 14.12mins ahead of Pippa Smart W10 15.13mins. Rob Smart M45 won the Short 2.1k course in 28.04mins, Ros James W50 was 2nd in 38.03mins and Philip Oliver 3rd M45 40.16mins. The Middle length course of 3.2k was won by Riina Kuuselo W35 in 25.22mins; David Lawson M50 was 2nd in 27.03mins and Harriet Lawson W18 3rd in 28.31mins. The challenging Long 5.6k course with map memory was won by Matt Elkington M18 in 46.53mins, Chris Embrey M21 from Harlequins was 2nd in 48.18mins and Chris McCartney M40 was 3rd in 48.22mins.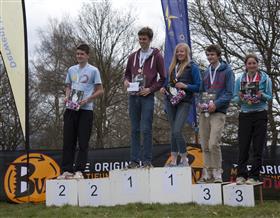 Harriett Lawson, 1st place and Matthew Elkington, 3rd place at British Middle distance championships.
photo courtesy of Wendy Carlisle
23rd April 2013