WEEKEND WINNERS AT JK 2013 INTERNATIONAL EVENT
More than 80 members of the Octavian Droobers Orienteering Club took part in the 4 day JK International Festival of Orienteering held around Reading and the Chiltern Hills. Club members competed in very cold temperatures against 3000 competitors from across Europe.
On the first day the Sprint Championships took place around Reading University campus. Julie Emmerson W18 and Sheila Carey W65 both triumphed coming first in their class against some strong competition. Andy Simpson M40 was placed 2nd, Will Gardner M20, Harriet Lawson W18 and Hilary Simpson W70 all attained 3rd places and several members took top ten spots – Matt Elkington M18 5th, Mike Hampton M65 8th, Riina Kuuselo W21 5th, Chris McCartney M40 5th, Harrison McCartney M16 4th, Aimee Morse W16 5th Trevor Simpson M70 9th and Anne Straube W35 6th.
At Hambleden, near Henley on Thames, competitors found the next day on the Chiltern Hills challenging but both Andy Simpson M40 and Sheila Carey W65 won their classes. Andy taking 64.26mins on the 11.3k course with 495 metres of climb with a two minute lead and Sheila 55.04mins on the 6.2k course with 170 metres of climb also with a clear lead of 2 minutes. Other great runs were had by Julie Emmerson W18 5.6k 240 climb 37.36mins and Will Gardner M20 6.3k 310 climb 33.11mins who both came 2nd in their classes and Roger Hailey M75 3rd on the 5.4k course taking 54.22mins.
This race result was added to the following day's event around Cold Ash near Newbury and Andy Simpson and Julie Emmerson continued their previous day's successes by winning on the second day and becoming JK 2013 champions. William Gardner M20 came 2nd overall with a combined time of 101.56mins and Sheila Carey was placed 3rd overall in 130.51mins. Fourth overall positions were gained by Harrison McCartney M16 who came 7th in the 1st race and 3rd on the second gaining an overall placing of 4th with 92.15mins and Anne Straube W35 5th and 4th places taking a total of 131.44mins. In overall 6th place were Riinna Kuuselo W21 11th and 6th places and 113.23mins total time, Harriet Lawson W18 7th and 6th 118.11mins and Hilary Simpson W70 6th and 7th and 151.39mins. Mike Hampton M65 and Nathan Lawson M16 were both placed in 10th positions after completing both events.
Other good combined times on the shorter courses were earned by Emma Kettley 1st W20L 101.52mins, Bruce Bryant M55 4th place overall in 129.50mins, Liz Cross W40 4th place 114.47mins, Helen Elkington W20S 126.51mins, Thelma Spalton W65 5th 125.01mins and Rajani Murthy W18S 8th 164.55mins.
On the final day, at Hambleden, OD fielded 15 teams in the relays and six of the teams finished in the top 4 of their respective classes. In second place in the Women's short class was Harriet Lawson, Aimee Morse and Anne Straube and in the new men and women's combined age of 210 plus class Mike Hampton, Trevor Simpson and Sheila Carey also came second.
Nathan Lawson, Stephen Elkington and Harrison McCartney finished 3rd in the men's combined age of under 48 years. The following teams finished in 4th place: Women's Premier: Riina Kuuselo, Julie Emmerson and Sophie Kirk, Men's Short: Matt Elkington, Barry Elkington and Hamish Rogers: Women's 120+ Toni O'Donovan, Liz Cross and Lesley Ross.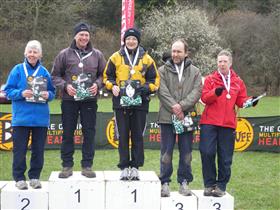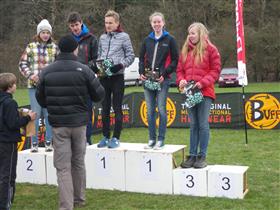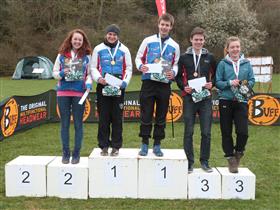 5th April 2013