ORIENTEERING AT OLYMPIC TORCH CELEBRATIONS
There were over 120 entries to the Olympic Torch Introductory Orienteering event at Abbey Fields, Kenilworth, on Sunday 1st July. Volunteers from Octavian Droobers and Kenilworth School and Sports College were kept busy encouraging juniors and adults on the 3 Maze and two cross country courses.
The Kenilworth Primary Schools competition was staged on the Maze course C and the result was a dead heat between Thorns and St Nicholas schools. The outright primary schools champion was Matthew Kermode from All Saints.
The winners of the cross country events were David Leadley on the easy 0.7k course 4.29mins, Sean Leadley M12 was 2nd in 5.49mins and William Heaton M14 3rd in 6.39mins. David Leadley also won the longer 1.1k course in 6.37mins, Luke Cherry M8 2nd in 8.48mins and E & S Jewsbury 3rd in 8.57mins.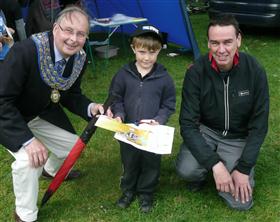 SHEILA CAREY CARRIES THE TORCH
Olympian and British Orienteering Champion (W65) Sheila Carey, from Bedworth, a member of Octavian Droobers Orienteering Club, carries the Olympic Torch through the streets of Warwick on Sunday.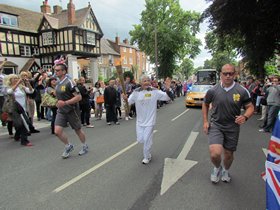 3rd July 2012