OD TAKE HONOURS ON NEW YEAR'S DAY
The massive turnout of club members to the annual New Year's Day score orienteering event held in North Staffordshire, near Kidsgrove, ensured the club retained the Laurie Bradley Trophy. The trophy is awarded to the best West Midlands club and in addition two trophies were presented to the best 18 years and under juniors, both from Octavian Droobers - Matt Elkington M18 and Julie Emmerson.
The event, organised by POTOC the Potteries Orienteering Club, was based at Kidsgrove Cricket club and the course was run over Bathpool Country Park and Birchenwood. 160 competitors all started at the 12 noon mass start and using the map with 33 controls depicted attempted to visit as many as possible within the 60 minute time limit. 10 points were awarded for each control visited and 7 penalty points deducted for each minute over the time limit. Twenty five top scoring OD Club members amassed an amazing 5058 points well ahead of Wrekin Orienteers on 3608. Top senior scorers for the club were Matt Halliday M21 with 299 points for the men and Jane Halliday W50 210 points for the women.
On 27 December Richard Gardner staged the annual Christmas 4 leg relays at Rough Close near Coventry and 21 teams competed. Sharing the legs juniors Harrison McCartney and Julie Emmerson won the handicap team prize and the fastest times were achieved by brothers Robert and Ali Gardner. Chris McCartney ran all 4 legs of the relay and won the solo prize.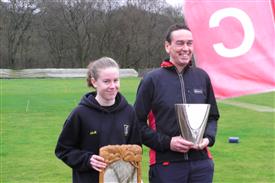 An OD junior and Andy Emmerson with New Years Day Trophies
3rd January 2012