OD CELEBRATE COMING SECOND IN BRITISH CLUB CHAMPIONSHIPS
Vice Captain Suzanne Humphries organised a team of 45 orienteers to compete in the British Club Orienteering Championship Final, sponsored by Compass Sport, at the Longshaw Estate near Sheffield. The team came in second, a significant improvement on last year's third place, and the winners were again South Yorkshire (SYO) with 2224 points gained by their top 25 runners ahead of Octavian Droobers (OD) 2062.
Despite several injuries and absences the smaller team produced a great result. Star performer was Will Gardner M18 who came 1st in his race on the Blue 7.6k course with 240m of climb one of two OD's who clocked up the maximum 100 points. Also on the same course brother Robert Gardner M20 gained 95 points, Barry Elkington M55 81 points and Andy Emmerson 58 points.
Riina Kuuselo came 3rd in her race on the Blue Women's 7k course only 25 seconds behind the winner gaining 98 points and Jo Halliday on the same course scored 68 points.
Iain Embrey M21 scored 94 points on the long Brown 10.9k 300m climb course. On the Green Women's 5k course Sophie Kirk W20 scored 94 points, Lesley Ross W45 84 points and Jane Halliday W50 74 points.
Mike Hampton M65 scored 86 points, Dave Marr M60 80 points, Gerry Spalton M65 62 points and Bob Brandon M60 56 points on the Green Men's 5.1k course. High scores were achieved by the veteran ladies on the Short Green Vets 4.1k course - 96 points to Sheila Carey W65, 92 to Carolyn Marr W60, 82 to Sue Bicknell W65 and 78 to Janet Richardson W60.
Star performers on the junior light green women's 4.1k course were sixteen year olds: Julie Emmerson scoring 100 points, Rachel Emmerson 92 and Francesca Slade 76. Matt Elkington M16 earned 92 points on the light green men's 4.1k course, Aimee Morse W14 84 points on the Orange women's 3.2k course, Stephen Elkington M14 88 points and Tom Ross M14 52 points on the Orange men's 3.2k course.
Andy Emmerson, club captain, said it was a fantastic achievement for the club to come in 2nd place and congratulated the competitors of all ages from 13 - 69 for such a tremendous performance. Some of the orienteers had never experienced this level of competition before and he was pleased to see one of them, Alan Segar M35, win the 'Golden Boot' award for the fastest run in by any competitor from the last control to the finish.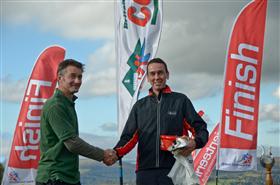 Andy Emmerson, club captain receiving prize for 2nd place.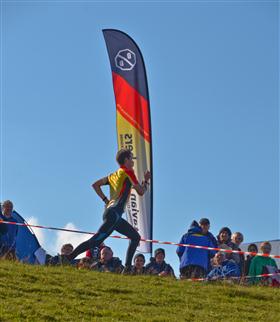 Iain Embrey racing in to clinch 2nd place for club.
BRITISH ORIENTEERING ANNOUNCE 2012 SQUADS
Congratulations to Matt Halliday M20 who has been selected onto the British Orienteering Elite Development Squad. Matt Elkington M16, Will Gardner M18 and Sophie Kirk W20 have been selected to the Talent Development Squad.
KENILWORTH COMMON RESULTS
Tony Feltbower helped by members of his family staged 3 courses around the common and new member Richard Hancock M16 came 1st on the Yellow course in 17.39mins. Philip Gould from Kenilworth Runners was 1st on the Orange course in 24.41 mins and Warwick University Chris Mackenzie M18 1st on the Green course in 43.53mins.
18th October 2011