Please send any questions relating to articles on this page to Andy Emmerson, OD Club Captain at odcap@octavian-droobers.org
Photographic Policy
Given the possibility of concern over the publication of photos containing juniors would all junior sand their parents / guardians please check what is shown on this page bearing in mind that captions and accompanying articles can make it possible to link some names to images. If anyone is at all concerned about what is shown / printed please contact me immediately either by phoning me (see the Droober membership list published annually in the magazine) or by email to the above address.
---
OD finish 2nd at the 2011 Yvette Baker Trophy Final
YBT results are available here: http://halo-orienteering.org.uk/doc/YBT_Results.pdf and detailed results are also posted elsewhere on the HALO website.
The YBT Final took place at Mausoleum Wood near Grimsby on Sunday 4th December. A strong OD team was narrowly beaten into second place by LOC who dominated Yellow and also scored heavily on Orange. In fact 7 of their 9 counters came from Yellow and Orange. LOC finished with 885 points, OD had 878 points and HH were 3rd with 845 points. 11 teams contested the final.
Although we have not won for the record breaking 5th year in a row we still did well and there were some fine runs against strong competition.
The 9 OD counters were:
Julie Emmerson Green(W) 100
William Gardner Green(M) 99
Patrick Roddy Orange(M) 99
Aimee Morse Light Green(W) 99
Ella-Rose Mccartney Orange(W) 98
Harrison Mccartney Light Green(M) 97
Rachel Emmerson Green(W) 96
Rachel Johnson Orange(W) 95
John Leyden Yellow(M) 95
Many other ODs scored over 90 points so we should not be discouraged by coming second. Next year we will be challenging again.
Here are most of the team with the runner's up plaque and a box of chocs: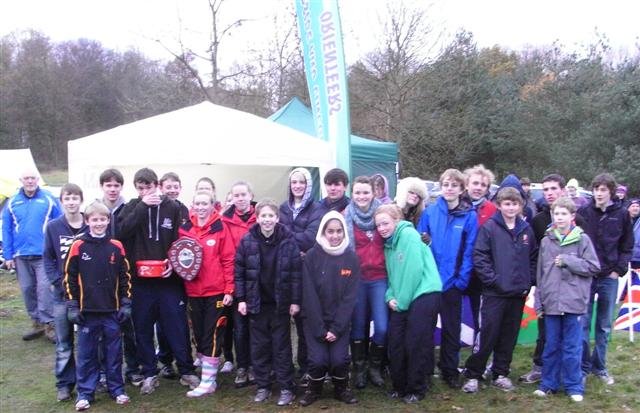 And here are the new OD Junior Reps, accepting the plaque and guarding the chocolates diligently: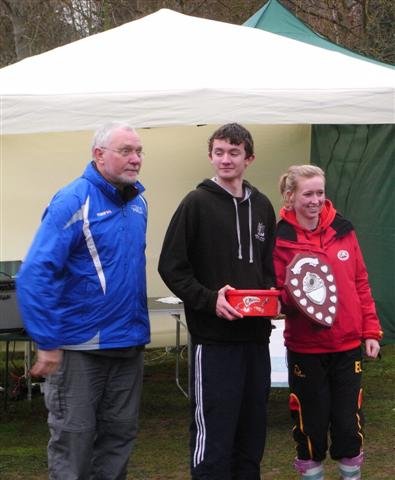 Thank you to all the club juniors who ran at the event and to all the OD adults who came along to support the club.
Andy
---
Yvette Baker Trophy Qualifier 2011
OD juniors produced a comprehensive victory in the YBT Qualifier today, scoring 898 points out of a theoretical 899 maximum. This stems from winning 7 of the 8 classes on offer and having an abundance of second places (plus a whole lot of other good results). Each class winner scores 100 points with 99 for 2nd place, 98 for 3rd etc. The top nine OD scores summed to 7*100 + 2*99 = 898. HOC provided a big box of sweets for the winning club and try as I might I cannot eat all of them, so I will take the box to Hay Wood next week. I'll also save a bag for the KH8 students as they will be heading north for the British School Orienteering Championships that weekend. Good luck to you all and bring back a trophy!
Here is the results summary from the HOC website: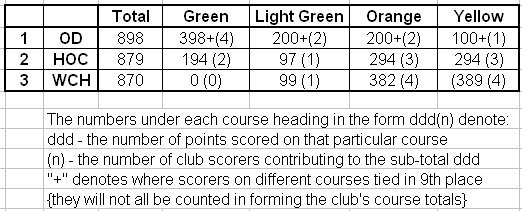 Our 100 point scorers were:
Gursimran Kullar (Y), Jeremy Knott (O), Lizzie Davies (O), Harrison McCartney (Lt. G), Aimee Morse (Lt. G), Will Gardner (G) and Emma Kettley (G)
Our 99 point scorers were:
Sam Hart (Y), Ella-Rose McCartney (O), Stephen Elkington (Lt. G), Matt Elkington (G) and Rachel Emmerson (G).
On 98 points were Tamsin Alcock (Lt G), Guy Ross (Lt G), Calum Barnetson (G) & Julie Emmerson (G)
On 97 points were Sophie Oliver (Y),Francesca Slade (O) and Heather Rogers (Lt G)
On 96 points were Tom Ross (O), Ellie Beach (O) and Amy Oliver (Lt G)
On 94 points was Rachel Johnson (O)
On 93 points were Matthew Kermode (Y) & Richard Hancock (O)
On 91 was John Cherry (Y) and on 90 Olivia Scott (Y)
which means everyone in the OD team scored 90 points or more which is a fantastic achievement so again, well done to all.
Please do check if you can come to the YBT final on Sunday 4th December and let me know NOW at odcap@octavian-droobers.org
What is the Yvette Baker Trophy?
The Yvette Baker Trophy is the premier Junior Inter-Club competition for English and Welsh clubs. It is named after Britain's first World Orienteering Champion, who won Gold in the Short Distance event in Scotland in 1999. The event, held annually in the autumn, is aimed at club teams of junior orienteers (M/W18 or under) of all standards competing on a mixture of Yellow, Orange, Light Green and Green standard courses. The full set of event rules can be found on the British Orienteering website by following this link:
http://www.britishorienteering.org.uk/images/uploaded/downloads/events_competitionrule_l.pdf
---
Disappointment at the Peter Palmer Relays
It was a case of so near and yet so far for the "Wizards Of OD" at the PPRs on 11th September but for the "OD Owls" there was a very creditable 11th place finish out of 25 starters so well done to them.
The Wizards team went into the final 6th leg of the race with a 6 minute lead over last year's winners, SYO and in fact finished well ahead of LOC who passed SYO on the final leg. Unfortunately their joy was short lived when download showed no record of one control, nor was there a clear pin imprint on the EMIT backup card. Inevitably the team was disqualified and so victory was gifted to LOC. OD was not the only club to mis-punch, 7 other teams also failed to finish.
Despite the intense disappointment there were a lot of good performances to reflect on. For the Wizards Matt Elkington went off in the mass start at 4:45am and was in the leading pack on both visits to the spectator control. Matt eventually finished in 4th place right behind the leaders which was a great performance. Harrison went out on the 2nd leg in complete darkness, running against many older juniors. He too held his position through the spectator controls despite the leading places changing around him and finished in a fine 4th place. Calum then set off in the deep gloom on what proved to be the decisive leg, storming round to open up a lead of 3 minutes. In fact his leg 3 time was only seconds slower than the fastest time posted for that leg and he did more of it in the dark than anyone else. Julie then ran the fastest time of the day on leg 4 to extend the lead over SYO to 4 ½ minutes. Rachel and Aimee ran the 5th leg with Rachel first back extending the lead over SYO to 6 minutes and 10 seconds. William was our final runner and he pushed hard knowing that the chasing clubs had top class runners on their final legs. Unfortunately the desire to maintain the lead resulted in the mis-punch.
The Owls team was led off by Stephen who was one of the youngest 1st leg runners. He resisted the temptation to try to hang on to the big boys and ran a very solid race to finish only a few minutes behind Matt in 16th place. Guy ran a good 2nd leg and had pulled up to 11th place by the end of his run. Leg 3 was a tough ask for Heather, 4km in the gloom when she has not been able to do much running for several weeks. To her credit she stuck to the task and handed over to Ellie, who had been moved onto Orange earlier in the day to replace the injured Ella-Rose, in 15th place. Ellie did really well and had picked up 2 places when she handed on to Hamish, Jeremy and Sam on the Yellow leg. Not surprisingly and despite a sore toe Hamish romped the Yellow to record that fastest time of the day on that leg and moved the team up to 11th place. Michael went out last and used all his urban league experience to race round the last leg and maintain the team's position. He might even had gained a place when he picked an alternative route in an attempt to break clear of the AIRE runner just ahead of him but the gamble didn't come off this time and he finished in 11th place. Unfortunately the loss of Ella-Rose meant the Owls were no longer eligible for the age handicapped Joan George trophy, otherwise they would have finished as Joan George runners-up.
We now have to say goodbye and thank you to Will, Michael and Calum as they will all be too old next year. It does mean that new faces will be needed in the 2012 PPR teams so I'm looking at all our juniors to continue their development over the coming 12 months as I search for another team to challenge for this trophy again. OD is hosting the 2012 PPRs so travel will be easy and I'd like to be able to enter 3 teams next year.
---
OD success at the World Schools Orienteering Championships 2011
Hear the radio interview from The Elliot Webb Show on Saturday 28th May on BBC Coventry & Warwickshire by following this link:
http://www.bbc.co.uk/programmes/p00drqfg
The show duration runs from 0:00 to 3:00 hours, the interview runs between around 2:18 and 2:24 so drag the slider to that area and turn on the speakers! The audio is only available until Saturday 4th June.

25th May 2011. The Kenilworth School team of Rachel & Julie Emmerson, Francesca Slade, Tamson Alcock and Lizzie Davies has won team gold medal at the World Schools Orienteering Championships held in Italy this week.
The team medals are awarded for the combined performance over two events; the long distance format race run on Monday and the middle distance format race run on Wednesday. The times of the first 3 runners on both days are added together to find the overall world champions.
The Monday results were: 3rd Rachel in 39:18, 6th Julie in 41:48, 18th Francesca in 50:52, 52nd Lizzie in 90:44 and 56th Tamsin in 111:33
The top 3 times came to 131:58 to put Kenilworth in 2nd place behind Napier Girls School (New Zealand) and ahead of Banchory Academy (Scotland) in 3rd.
The Wednesday results were: 2nd Julie 17.52, 6th Rachel in 20.03, 14th Francesca in 23.51, 25th Tamsin in 29.17 and 50th Lizzie in 45.24.
The top 3 times came to 61.46 to put Kenilworth 1st on the day ahead of Napier School.
The aggregate times for both events gave victory to Kenilworth School and Sports College with an overall time of 3:13.44 ahead of Napier Girls High School (New Zealand) (3:16.00) and the Banchory Academy (Scotland) (3:43.00).
In the Boys select race Hamish Rogers was 2nd on long distance course in 37:43 which helped his team (Boys Select) into the bronze medal position after both events had been completed.
More info at http://www.italiaor2011.com/en
Photos seem a little sparse but here are 2 I found from the prize giving after the first event: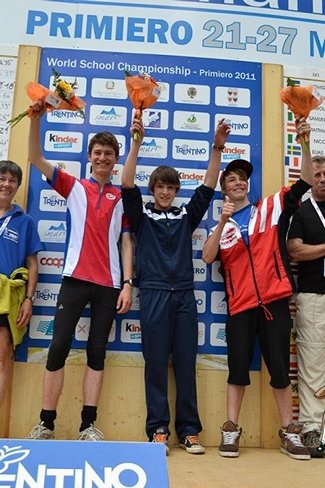 ---