Pooley Country Park - Laurie Bradley Score
OD Level C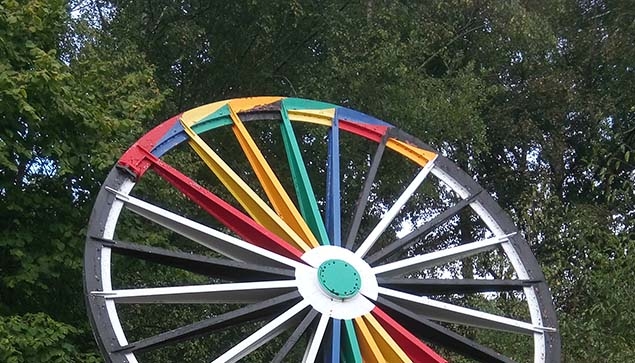 Pooley Country Park, Polesworth
A 60 minute Mass start Score event, the Laurie Bradley Trophy is an open event with the trophy itself awarded to the WMOA club with the highest scoring 25 runners. There is also a trophy for the highest scoring M & W18. Full rules on the WMOA website.
See the attachment at the foot of this page for more details.
Location: Pooley Country Park, Pooley Lane, Polesworth, Tamworth B78 1JA
Current members of British Orienteering: are encouraged to pre-enter using Fabian4
Newcomers and non-members: can enter using Fabian4, but can also reserve an entry by emailing entries@octavian-droobers.org or can enter on the day at the event.
Those who pre-enter are guaranteed a map. We do print extra maps, but this may become restricted by the availability of printed maps.

Discounted Pre-entry: Enter by Sunday 17th December.
Senior British Orienteering member £8 (Non-member £10)
Juniors £2 (including full-time students)
SI card hire £1 (Non SIAC)
Late Pre-entry: Enter by Friday 29th December or EOD (Entry on the Day).. Late Pre-entry (or EOD) may become restricted by the availability of printed maps.
Senior British Orienteering member £10 (Non-member £12)
Juniors £4 (including full-time students)
SI card hire £1 (Non SIAC)
Car parking: £3 (All day) Card payment only - no cash
Visitor centre and Tea Roon: Open on the day from 11:00 - 15:00
Toilets are adjacent to the visitor centre

Mass Start: 12:00 Start: 300m Finish: adjacent to the car park
SI punching (SIAC enabled).
Course: 60 minute score
Collect controls in any order
10 points per control / -10 points per minute late. Don't be late!
Any Juniors should be capable of completing at least an Orange course and any younger than M/W14 must be accompanied by an adult at all times.
Map: 1::7500 with 5m contours, A4 map, Symbols: ISOM 2017-2 Updated and extended October 2023
Text descriptions on the map. Loose control descriptions will not be available at the event - please print your own (available after 18/12/23) if you want pictorial descriptions. Here
Terrain: Pooley Country Park is easily reached being close to the M42 and A5 and is the site of an old colliery that opened in 1841 although the area is now transformed and includes an SSSI. The colliery was the first in the country to generate its own electricity and the first to open pit head baths in 1928. Crossed by the Coventry Canal and the M42, bordered by the River Anker and the West Coast Mainline but has just had a reprieve since HS2 is no longer going to cross it. The area offers a mix of orienteering with some fast open stretches, intricate areas of woodlands and paths plus the inevitable hill. It can be described as having a range of separate areas each bringing quite a different challenge to the orienteer.
Officials:
Planner/Organiser - Keith Willdig.assisted by Margaret Willdig
Controller - Adrian Bailey (HOC)
COVID: Please do not come if you have symptoms of Covid-19, or suspect you may have it.
Safety and Risk:
A risk assessment will have been carried out by the organiser, but participants take part at their own risk and are responsible for their own safety during the event. If you have a high-risk medical condition you want organisers to be aware of please leave details at enquiries in a sealed envelope with your name on it. You can use this medical form. Envelopes will only be opened if required for a medical emergency. Unopened envelopes should be collected after the event. Any unclaimed envelopes will be destroyed after the event.
An emergency number for the day is printed on the map. First aid and details of the nearest A&E hospital will be available in the assembly area.
Photography:
British Orienteering has an agreed national guidance policy on the taking of photographs at events. If you are unsure about the agreed acceptable practice, please speak to the event organiser.
Privacy & Personal Data:
When entering events your personal details (name, age, gender, club) will appear in the results section on this website. It may also be used to trace missing runners and hired SI cards.
Address
Pooley Country Park

List of Dates (Page event details)