Learning how to read map contour lines is an important skill for orienteering.
Our interactive topographic map contour line training exercises aim to help improve your understanding of contour lines and how they relate to real-world terrain.

Updated in 2021 - Rotatable 3D models of real terrain. There are 3 categories of exercises (terrain matching, route matching and control location matching) containing over 45 separate exercises.
There's a tutorial to help with getting started and if you find it too difficult watch out for hints at the bottom of the page when you get one wrong. If it's too easy you can change various settings on the Settings page to make it more challenging and get higher scores.
This may not work on some computers and browsers but if it does it's more interesting than the older quizzes and also works on touchscreens. It will use up to 60MB mobile data if you try all the exercises but can be installed progressively for offline use.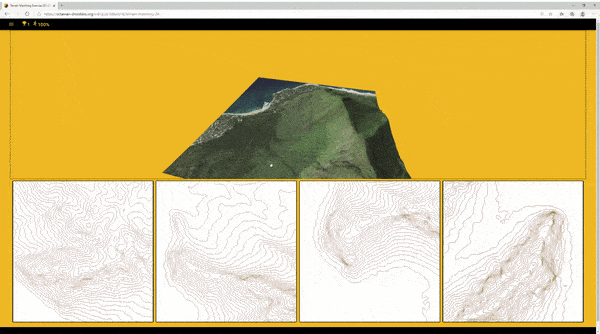 ---
Alternatively, these are the older contour map quizzes which should work on most computers and browsers but have limited touchscreen / mobile support:
As your skills improve, you can alter the time limit on the exercises to make them more challenging.
Feedback for improvements / further exercises to alan@octavian-droobers.org
---