CLUB WINS NEW YEAR'S DAY TROPHY
The New Year's Day annual Laurie Bradley Trophy is hotly fought over amongst the West Midlands Orienteering Clubs. This year Octavian Droobers were the winners amassing a total of 5260 points well ahead of second placed Walton Chasers, the Staffordshire Club, 4480 points.
The event, a score to find as many control sites within 1 hour, attracted over 130 runners to Sutton Park, Sutton Coldfield. Each control site visited scored 10 points and OD's Will Gardner was the only competitor to find all 31 controls within the time limit earning the maximum of 310 points. Navigational and speed skills were important as those going over the time limit were penalised 10 points for every additional minute.
The top 25 club members who amassed the total score included: Ollie Flippance 290 (top male junior), Alistair Landels 290, David Leadley 280, Mark Rookledge 270 and Sam Leadley 260, who all featured in the top 10 from all of the clubs. Helen Elkington scored 220 and was the top scoring woman.
As is often the case, perhaps running off Christmas excesses, the first weekend of the new year of competitive orienteering saw hundreds from all around the midland areas converging on two events. In both cases the clubs ran out of maps and entrants had to wait for early runners to donate theirs. Several OD's had successful runs and at Mardley, near Stevenage, the Happy Herts club event saw Bruce Bryant M60 come in 3rd on the Green 4.675km course in 46.41mins and Liz Phillips W55 2nd on the Short Green 3k course in 46.39mins. At Nottingham Orienteering Club event in Sherwood Forest Mike Hampton M70 was 2nd on the Short Green 3.8km course in 41.31mins and Lesley Ross W50 4th on the Blue 7.4km course finding 20 controls in 60.20mins.
8th Jan 2019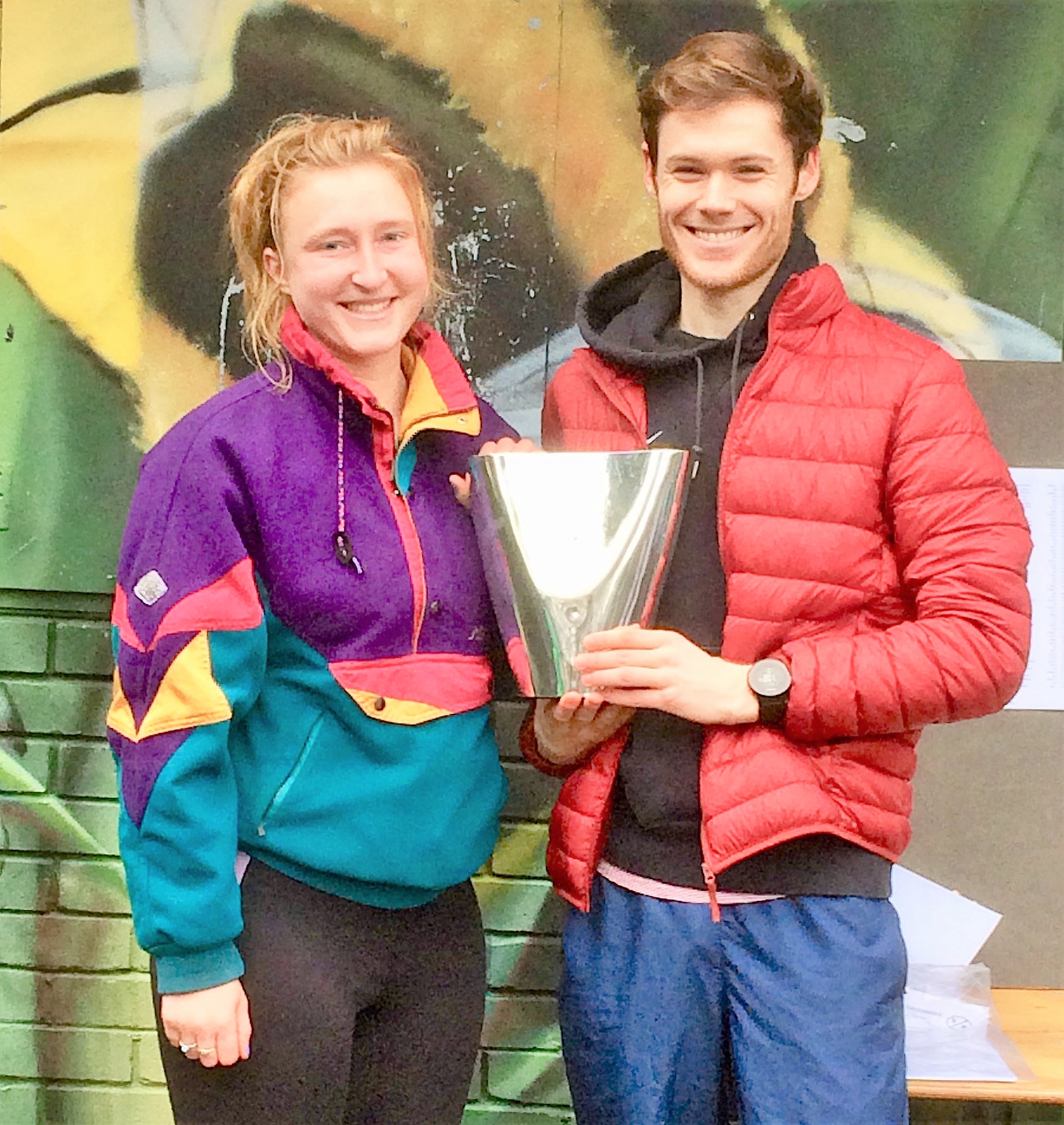 Helen Elkington and Will Gardner with Laurie Bradley Trophy 2019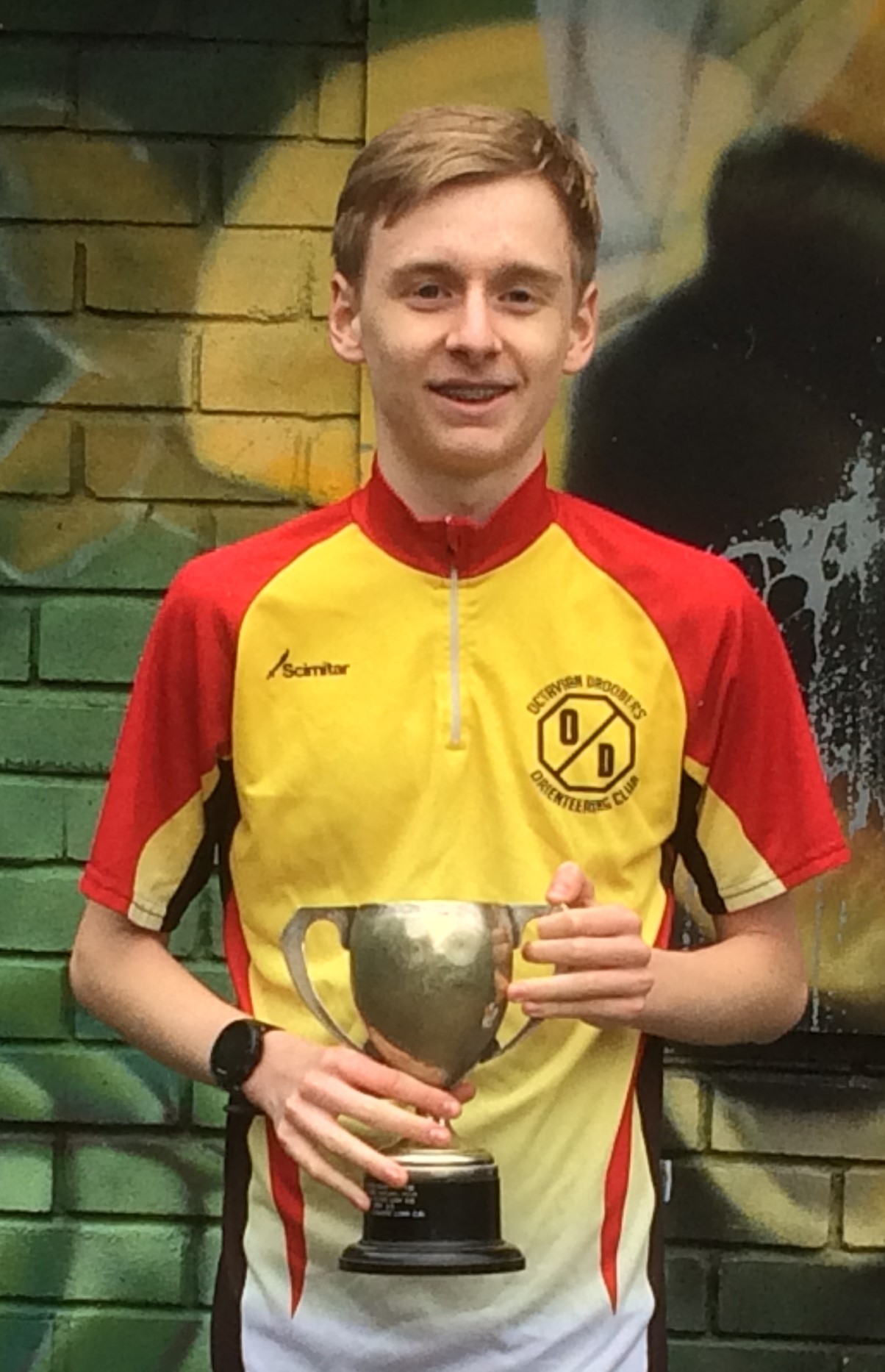 Junior Male Laurie Bradley Trophy
FINE RUNS IN MADEIRA
The Sprint and Urban races, part of the Euro City Tour series, were organised over this weekend around Funchal, Madeira. Several OD members travelled and enjoyed the sunshine. The Elkington family had some fine runs and Matt Elkington M21 won the Senior Mens Urban sprint around Funchal taking 15.20mins to navigate around the 2.6km course. Helen Elkington W21 was 7th on the Senior Womens 2.4km course in 22.02mins. and Barry Elkington M60 earned a 2nd place position on the 2.3km Super Veteran Mens course taking 18.52mins.
On the longer Urban City Race Matt Elkington was 2nd in 45.33mins only 5 seconds behind fellow Brit Jack Kosky on the 7.9km Senior Mens course with 39 control points. Helen Elkington was 8th in 48.51mins on the 5.8km Senior Womens course and Barry Elkington was 5th in 39.22mins on the Super Veteran Mens 5.3km course.
Itchington Holt's, beautiful woods near Harbury, were a great venue for the Club Championships and West Midlands penultimate league event. It was especially great to see all the wild deer and hares. The club welcomed many newcomers especially juniors and first timer Daniel Dimmock M14 was the winner of the White course taking 14.18mins just ahead of James Jennings M14 14.25mins. Club member Max Straube-Roth M10 won the Yellow course in 20.50mins. Henry Jeffries M12 was 2nd in 34.51mins on the Orange course and newcomers Simon Mottershan and Stef Lunn were 3rd in 42.11mins. Felix Lunn M16 was 1st on the Light Green course taking 21.55mins, Oliver Lunn was 2nd in 22.52mins and Joe Quinney M14 was 3rd in 31.27mins. Pippa Smart W16 was top girl taking 32.59mins.
Peter Carey M70 won the Short Green course in 34.01mins and Sheila Carey W70 was 2nd in 37.41mins. Anne Straube W40 won the Green course in 34.11mins, Richard Gardner M60 was 2nd in 35mins and Lesley Ross W50 3rd in 35.36mins. The winner of the Blue course was Alistair Landels M50 in 43.40mins, Tom Jeffries M45 was 2nd in 48.12mins, David Lawson M55 was 3rd in 48.57mins and Kirsten Strain W21 was top woman taking 48.58mins. Will Gardner M21 was the fastest on the longest course, Brown, taking 39.24mins, Oliver Flippance M16 was 2nd and Mathew Batley M21, Warwick University, was 3rd in 53.10mins.
Club championships trophies and handicap prizes for all age classes will be announced and presented at the annual Christmas party at the Wardens Kenilworth on Wednesday 19 December.
11th December 2018