Read below for details of a weekend of orienteering in Warwickshire. Entries now open at www.fabian4.co.ukIf you wish to run a TD5 course / be competitive for Midlands Champs ensure that you pre-enter. Entry on the day will be very limited.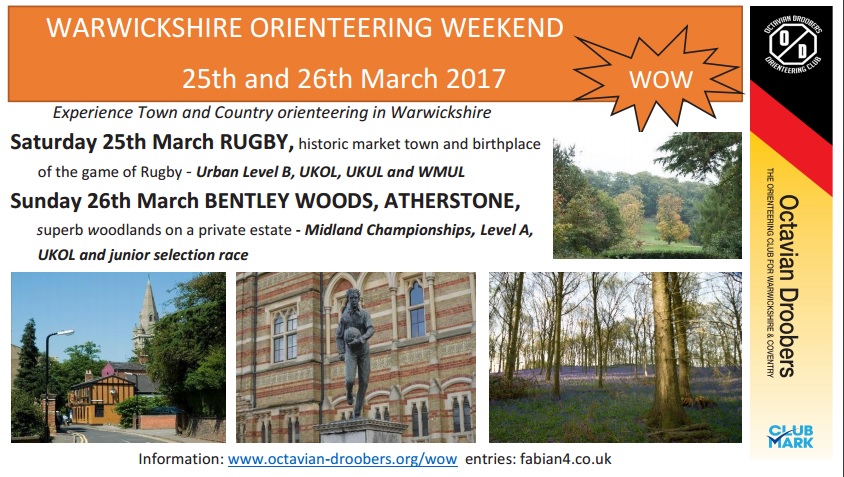 RESULTS: http://www.cix.co.uk/~neper/index.htm Routegadget: http://www.od.routegadget.co.uk/rg2/
Saturday 25th March: Click HERE for the final Rugby Urban Details updated 22nd March 17
Link:NEWCOMERS GUIDE TO ORIENTEERING AROUND TOWNS AND CITIES AND HOW TO ENTER THE RUGBY TOWN (URBAN) EVENT.
Sunday 26th March: Click HERE for the final Bentley Woods Details updated 22th March 17
Click HERE for Emit Touch-Free-Instructions_for_O_Events
Warwickshire Orienteering Weekend
Rugby Urban, Rugby Town Centre – Saturday March 25th
Midland Championships, Bentley Woods, Atherstone – Sunday March 26th
We are getting close enough to almost taste our first ever Warwickshire Orienteering Weekend that is coming up in March. Consisting of two contrasting and challenging town and country races priced at just £23 for seniors to run both days, including hire of touch free EMITags for everyone to fly through the course, we think it is competitively priced and a must do weekend. We use a simple one price approach without the nonsense of extracting a premium fee if you did not enter months before you ever knew about the event, but, don't leave it too late!
Rugby town centre will be used for the first time for orienteering and the arena will be in the athletic stadium which provides a great venue for the event. Situated close to the conflux of the M1, M6, M45, A5 and A14, there cannot be an easier place to reach than Rugby from all over the country.
The Midland Championship at Bentley Woods, Atherstone is also extremely easy to reach and, for those of you that have run there before, there is a new twist this year with the arena located in the grounds of Merevale Hall which will give a different slant on a great area.
Have a look at the interim details of both days which are posted on this page, keep an eye out for updates as we get closer and, if you have not already done so, enter at www.fabian4.co.uk .
Any quieries: This email address is being protected from spambots. You need JavaScript enabled to view it.
Finally, there is a closed junior sprint selection race for the summer's international competitions and squad camps taking place at Warwick University, on the morning of March 25th, which is not organised by OD as part of the two events of WOW, but is running in parallel to them. Those juniors wishing to compete in the closed selection event should contact Paul Murgatroyd directly at This email address is being protected from spambots. You need JavaScript enabled to view it. for details. All others should enter the OD organised WOW Rugby urban race, part of the UK Urban and UK Orienteering Leagues, on the same date – enter via www.fabian4.co.uk . The sprint selection race is timed to start so that juniors taking part, or family/friends supporting or providing transportation, can make the short hop over to Rugby in plenty of time to take part in the urban race in the afternoon.'